Discussion Starter
·
#1
·
OK , here' my story..
My wife don't like me anymore, she loves me but I don't think she likes me.
She knows ,most of the time, when I am on the hunt for a particular gun. I mention it often.
I gotta get her involved, and interested in what I'm interested in. She is cool with that.
BUUUT....
Sunday, a guy advertised locally, (well an hour 10 min north) that he had a H&R Handi SB2 rifle LNIB , in 45-70 govt.
Now yall know very well, that anything in 45 70 gov , usually gets my attention.
He was asking $350, that's OK but not what I'd give. So I arranged for the wife and I to drive there at 2pm and take a look.
He ask me if there was anything else I liked , as he was selling off a bunch of his guns, I said yeah I been on the lookout for an H&R Ultra slug ....he laughed and said "I got one" , I said "bring it". I been looking for a long time.
So we drove up and He showed me the 45-70 first, Tapered bull barrel , that's a plus,
Like he said, LNIB, cant tell its ever been fired...$350. hmmmm
Then He showed me the H&R Ultra slug , whoa, LNIB and a rifled BULL Barrel, and a Bushnell Sportsman Scope , and sling. Holy crap , never dreamed of getting one with the BULL barrel ( its a 10 gage barrel bored to 12ga) I actually have been wanting a real cannon anyway .... .730 dia bore.. $425....hmmm
Then he brings out this gorgeous Stainless Steel Marlin 25MNSS bolt action .22 magnum , Ducks Unlimited edition. .
Its pretty, nice rifle, I got a Marlin in .22mag already, bore is great, stock is dinged up a bit.
Buuuttt...... what got my attention was the Scope ...yeah the scope, it is a 20 year old Weaver Classic 2x10x38...I just happen to be familiar with that scope, and knew it was about $200 scope., and was still clear as could be, fantastic double + crosshair, in really good condition. I figure , what the heck , if I can get the rifle cheap enough , I may bite...he is asking $325.
So I make him a couple low ball offers on the 45-70, then the Slug gun and the 45-70, then the Slug gun and the Marlin. HA! he's moving ..
Finally, I said, here's all I can do.... 2 bills for the 45-70, 2 bills for the Marlin, and 3 bills for the slug gun. He cried , whined, bent over to puke, stood up and in a squeaky voice said OK.
I drove away with all 3 guns or $700.
Now my wife don't like me , just because I bought 3 guns... she just don't understand what a great deal I just made.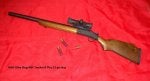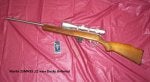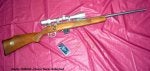 Just because......
btw, that little 45-70 is light weight and ,with warm reloads, woohoo kicks like a mad mule..:melikey:
Haven't tried the shoulder cannon yet.
Jim