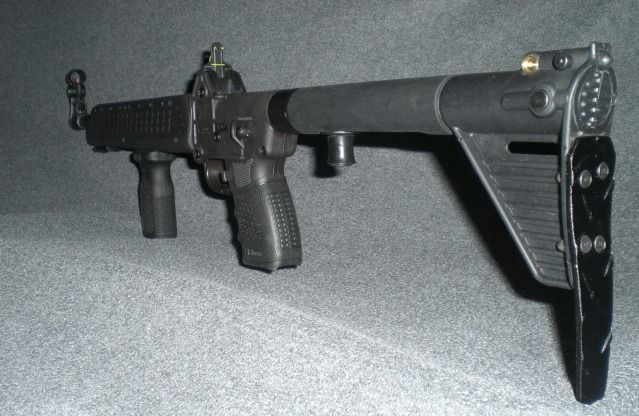 I've been a happy owner of the Kel-Tec Sub 2000 for a month now and have been to the local range 4 times, shooting 575 rounds of 185 grain ammo mostly Remington. I tried three other 185 grain ammo, two 50 count boxes with "No" FTE/FTF and one Dicks reloaded brand that was so bad I had 3-5 FTE per 10 round magazines and lets just say I will never buy reloaded ammo again no matter what the savings. As for ammo the .40 takes any factory loaded cases with a smile.
1st time at the range:
Didn't care much for cranking my neck and head so much to use the sights, but once I was lined up, I found the SK2 easy enough to aim, yet I felt I was just hi or just low at what I was aiming for. This I chalk up to inexperience with the sights. I do wish I had cleaned the SK2 before going out to the range before shooting for the first time, this information I found out after my first day out, lesson learned.
What I did until next range day:
As I did not like the way I had to contort my head/neck to get a good check wield when I was using the SK2 all I needed to do was hold the butt stock higher on my shoulder to aim more comfortably. I accomplished this by extending the stock butt shock 2 ¼ " with a 3/8th piece of aluminum diamond plate (cut, filed, filed some more and powdered coated it). Then added a front Magpul RVG Rail Vertical Grip
2nd Time at the Range (Week Two)
Very happy after the range today, break in period going well no problems mechanically. Happy with the modified stock buttstock, it works very well and has added much needed comfort. I need to get a better vertical line for my shot placements. Don't get me wrong I'm not missing the target per say I'm just trying to get tighter groups and find I have a vertical line that ranges 2-3" at 15, 20 & 25 yards, indoors standing or bench firing.
What I did until next range day:
The Otis Tactical cleaning kit, fiber optic rods and .5 & 1.0 mm drill bits came in, plus two more 10 round magazines that I found used on Guns America all arrived. In addition I ordered and received replacement rear sights from Kel-Tec (very good customer service so far) the sight are so I can tinker with my ideas with helping me aim. (Much easier said then done, but I'm happy with what I came up with).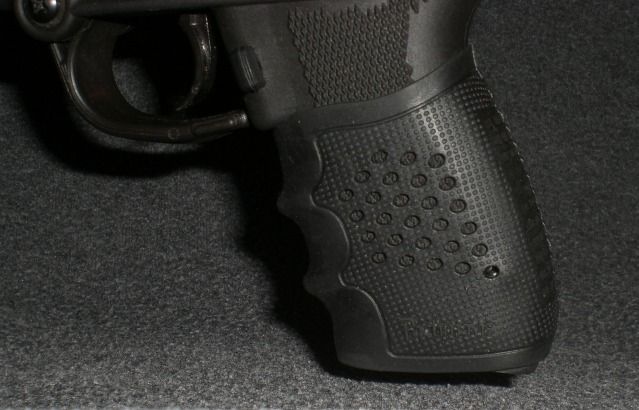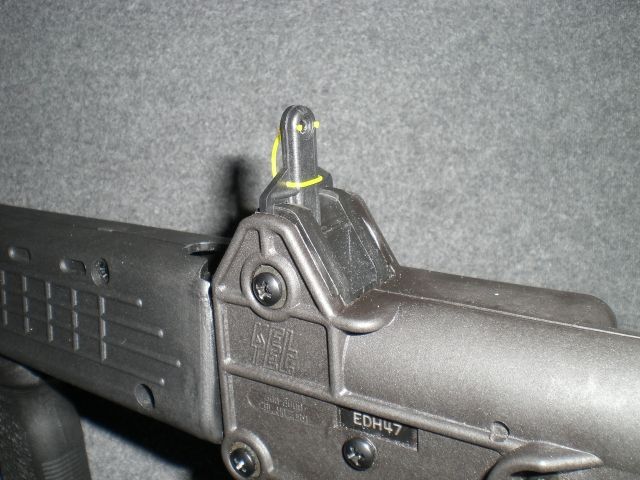 3rd Time at the Range (Week Three)
I learned the hard way that the counter guy at Dicks Sporting Goods knows what he is talking about. The reloaded 225 round box of .40 ammo is just horrible. This was not a good day, I went through 150 rounds with FTE 3-4 times per ten round magazine. This was caused IMHO do to weak powder charges, the shells would barely drip out of the ejection port and not fly out like the better ammo.
What I did until next range day:
Ordered the Tacticool charging handle cover & bolt tube cover, a Pachmayr Sig model P-228 tactical grip sleeve and the Kel-Tec front Picatinny rail. After a complete cleaning I went with 400 & 600 grit wet sandpaper to polished the bolt. To my amazement all the stuff I ordered came within three days so I was ready for my next range day.
4th Time at Range (Week Four)
Great time at the range. New rear sight works great, I can quickly sight the target / aim and have much better groupings. (Had two bulls-eyes, one at 25 yards on a large target and then one at 30 yards on a small target.) Shot through the junk ammo by practing firing one round in the mag and speed loading of a new one round magazine. Fun times… plus had an additional 100 rounds of flawless operation with quality ammo. I really like the Tacticool bolt tube cover and the feel of the Pachmayr Sig model P-228 tactical grip.
I'm very happy with the SK2 .40 cal and looking forward to many more range days, I can't wait until the weather gets a little better to practice at the outdoor range and work on 100+ yard shots. The only thing I'm looking to do next is either put a 125 lume or higher flash light on the front picatinny rail