This thing: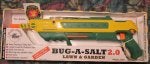 Shoots flying insects dead with a pinch of salt.
I HATE flying insects!
First modifications:
Since mine isn't going to be around children
EVER
the auto-safety is a nuisance.
Whenever the gun is fired, the safety springs back into the "on" (safe) position.
Not good for quick follow-up shots because the safety isn't intuitive.
The most damning thing is, when the safety is released it cannot put back into the
safe
position without shooting it
.
The only 2 mods I saw on You-Tube disabled the safety completely. We don't have to do that.
Perhaps it would be better if it worked like the safety on every other gun on the
PLANET
!
Easy to do. (this is not a step-by-step how-to).
A small magnetic phillips screwdriver is essential.
Remove the pump handgrip and all of the screws holding the right half on.
You'll see the pesky spring and the safety clicker-bar with its return spring: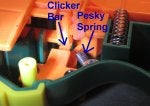 Remove all of the safety parts so it looks like this:
If we put the safety back in, it will flop around so we make a fiber-washer out of thin cardboard to make it slightly "stiff":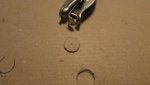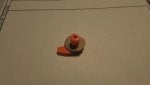 Install the safety and tighten the screw until it moves a little stiff.
Reassemble the other parts leaving out only the clicker bar, it's return spring, and the "pesky spring":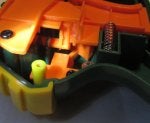 I made the washer a little large so it can be seen in photos. It doesn't need to be this big: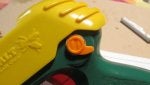 The safety will now work like ones on real guns.
One other thing bugged me (pun
). The red nose for the muzzle is a loose fit and can move around and interfere with the shot stream: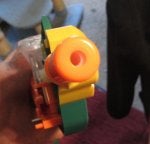 So I opened it up with a 9/32" drill bit:
I wanted to retain the red nose so some neanderthal (not LE), doesn't mistake it for something
"real"
.
Next are the built-in batteries, laser, and pressure switch
.