Discussion Starter
·
#1
·
My SW40ve has a little sister.The one on the right is the 40 cal.
It has the night sites, the SW9ve has a regular Glock site for free,courtesy of my local gun shop.Bless those local gun shops. I paid him with tomatoes..
I searched the S&W forum and I believe I can convert the 9mm to a dedicated 40 cal,if I wanted to.There is a lot of yes you can ,no you can't, I did it...debate if this can be done.
The slides are the same width,but the 9MM frame has a couple of ribs inside the grip that can/could be sanded down a little to let the wider 40 cal mag be inserted.
The 9mm mag just rattles around in the 40 cal frame and can be shaken out.
It would be harder to make a 9mm out of the 40 cal frame. you would have to glue a small rib on the mag or inside the frame to make it work.I know the barrels can't be switched. You can place the 9mm in the 40 cal slide but there is a lack of a good lockup on the back of the chamber/slide,not a good thing.
The 9mm slide could be opened up just a little to make room for the 40 cal barrel, but then it would make the 9mm barrel a loose fit. Again another not a good thing.
I don't know why S&W did not use the same mag body grip width for both calibers.
Sure would be a lot easier to switch calibers like the Glock,with just a upper and a matching mag.It must of been one of those "uh we copied almost everything about a Glock let's not do this we might get sued' which they did but for another reason.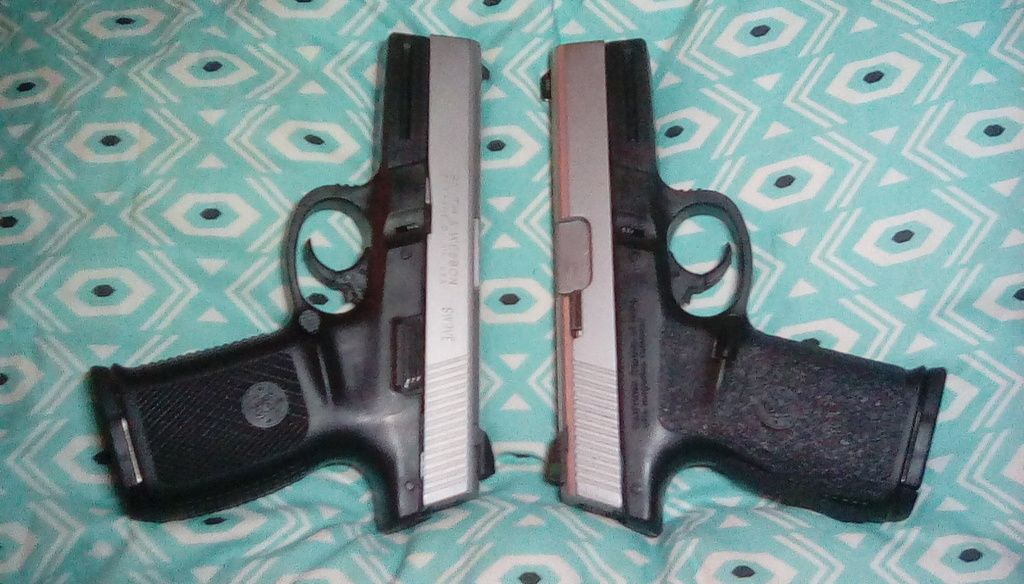 Waiting for the weather to cool off some so I can get some shooting in.
PS:Thanks to cc-hangfire for the 9mm mags and to HitManX for the spring kit.