Whenever possible folks please include descriptions, part numbers, and how to's when you post pics. *Pics are the primary reason for this thread, but it helps cut down on a page of discussion on "what is that?", "how did you do that?", and "where did you get that?". *That will then become a discussion on calibers, magazines, etc, etc. *If you do have a question for a particular member please try to PM them or open a topic in the Sub 2000 general forum with their name in the title asking your question
*
I thought it might be a good idea to sticky a picture post in this section, with the various scope/sight mods, and any other adaptations users have done to their Subs. *This way new or prospective Sub owners would have a quick look at what can be done with this wunnerful little weapon. *Atlasx, here's a place to show your scope mount, Mod_man your pigsticker, rjhauser's Hubble telescope, and others to name a few. *Bring out the pics! * ;D
Since there has been so much interest lately in what can be done to the Sub 2000, and I have answered questions from 3 different threads on what I did to mine, I thought I might show the evolution of each step I took. *I'll try to remember to list parts for each Mk. *Prices listed will be estimates of what I spent without shipping.
Green
is good money
Yellow
is iffy (Most are no longer in use)
Red
is what I consider too expensive or a bad purchase, even if I'm still using it (Like the Trijicon)
;D
MkI
KT rail
($20)
KT sling
($15)
Panther tactical flashlight and switch
($30)
Picatinny mount bipod from CDNN
($20)
TDI short vertical grip
($20)
M4 butt pad zip tied to stock
($10)
Cool basic Sub with some useful add ons
MkII
UTG 5 slot tri-rail x 2 (creates quad rail)
($25 x 2)
UTG 2 slot tri-rail (front sight mount base)
($15)
Yankee Hill Machine 1/2" scope riser (9490)
($15)
Yankee Hill Machine 7" rail extension (now 6" 9473)
($37)
Yankee Hill Machine folding front (9627) and rear (9680) sights
($90 each)
BSA Multi dot reflex sight
($60)
Note the lack of forearm. *I did this to get the 7" rail nearer to the rear sight area. *Fired with it in this configuration ONE time. *Burned hand when I carelessly grabbed the barrel to set it down after rapid firing a 15 rd magazine. *That and the fact that the tri-rail - while holding zero - shifted back on the barrel during recoil from multiple shots. *I also found out during this time that the barrel nut is held in place by pressure from the forearm, so there needs to be a forearm in place!

MkIII
KT short forearm
($25)
ATN Compact digital reflex sight
($130)
A.R.M.S #36™ S-Ex AR-10 OSR Swan® Sleeve
($99)
This was the look I was going for. *The ATN sight even looks scale to the Sub to me, and co-witnessed nicely with the AR sights. *The KT forearm holds the tri-rail well against recoil, and removed the idiotic need to grab that area of the barrel. *I removed the BSA NOT because it didn't work well, but because it sat so tall on the rail I was afraid to carry the weapon slung this way without damaging the sight. *The Sub stayed in this configuration for most of last summer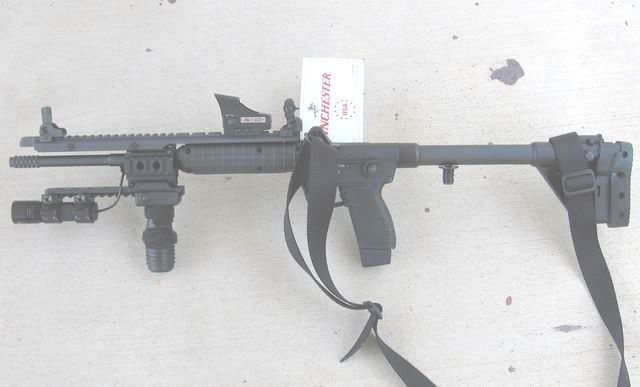 MkIV
Trijicon RX-01 reflex sight
($400)
KT mag holder
($11)
Surefire G2 Nitrolon light
($38)
The Trijicon fell into my lap late August 06. *I had some disposable O/T at the time, and it was purpose built for this specific AR rail/sight combo, so I had to have it! *It didn't hurt that it doesn't need batteries (the ATN was dead on my first range trip with it, because I'd accidentally left it on at the house). *I hadn't planned on a KT mag holder, but again one came up for about half normal cost, so I got it. *The Surefire was an easy choice due to company reputation, a reasonable price ($39), and it fit in a 1" scope mount which I had plenty of laying around. *It's easily activated with the forefinger of my front hand, without releasing the grip. * Momentary on with knuckle, or use finger to roll the rear cap 90 to the right and it's always on.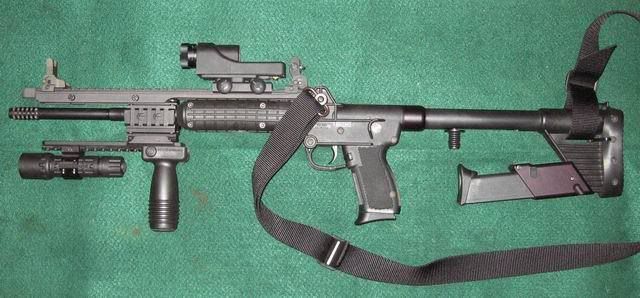 MkIVa
Blackhawk double stack mag holder (410600 double stack), ($16 x 2)
I can now hang 60 rounds worth of regular magazines off or in various parts of it. *The balance and weight are still surprisingly manageable. *And it still slings okay.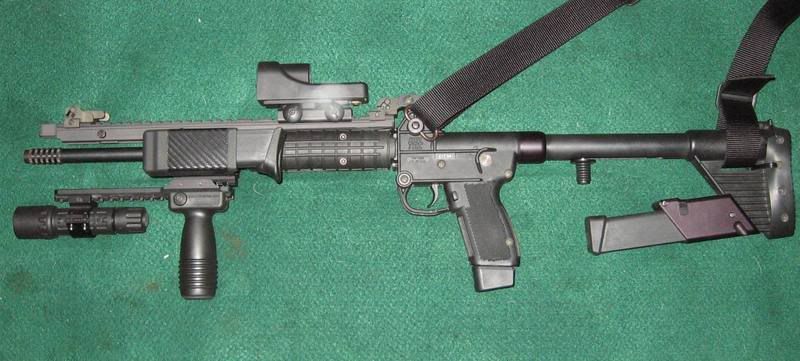 With a Simmons 2X scope for a little more precise shooting. *The Trijicon resides on it the rest of the time. *I've also added L4E's Tacticool stock tube cover, and bolt charging handle. *Nice products.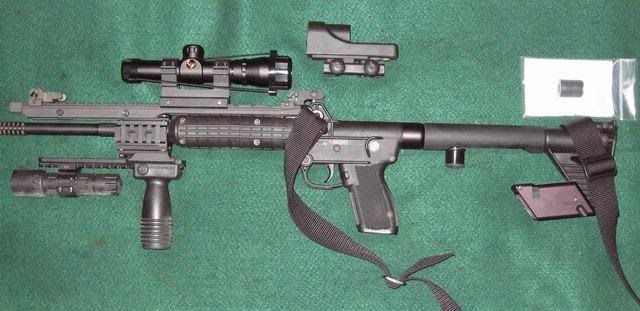 Please don't think I'm being pretentious. *It's just been a fun project over the past year, and I kind of enjoyed it