Hey all,
I recently received my RDB raptor rail from Lucky Irishman and was hoping to attach it to my RDB-C. I had seen a pic of a "C" with the rail and thought it would be an easy install like a normal RDB. Turns out, things are just out of reach. Hoping I could get some suggestions.
http://imgdump4.novarata.net/image.uploads/13-12-2018/original-1a076ace7f30cf89cee0dfb29e4a837e.jpg
Here's the original image of the "c" with a rail that inspired me.
Here's what I've found so far...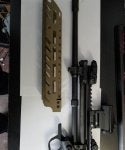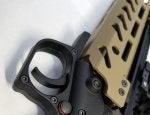 It looks Like I should be able to file down the area that the rail is hitting and give it the room it needs. Any suggestions on what to do and what tools to use to do it are appreciated.