Discussion Starter
·
#1
·
Hey guys, I'm newly registered here, but I've been lurking the forums for a little while now.  Anyways, I purchased a hard chrome, P3AT on Friday. I took it to the range on Saturday, and here's my review. Here she is. The serial number is J9*** for reference.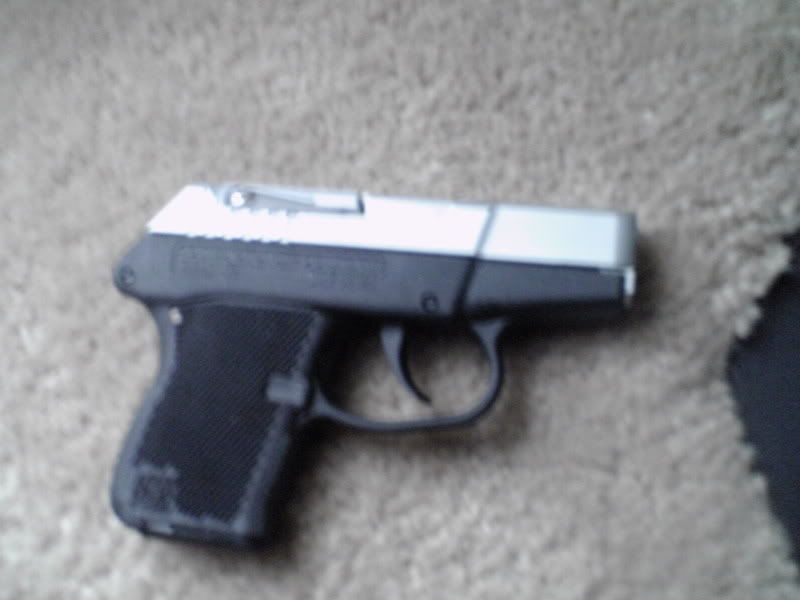 THE RECOIL FACTOR:
I was almost scared to shoot it, because of what people said about it "making them bleed." And, "You need a way to tame this wild beast." Well, it did kick, but nothing like some people have said. My .40 Glock 22 is worse. I didn't get my trigger finger beat up, and my thumb didn't get rubbed raw, As some have claimed.
RELIABILITY:
I did get some FTF's about every other round, for the first mag. I then realized, it was because of me not holding the gun tight enough. I wasn't quite limp wristing it, but it definitely takes a more conscious effort than I'm used to with my Glocks. Once I got my grip under control, I had only 2 FTF's, which was because I got relaxed again. This happened with Fed Hydra shok rounds. I then switched over to cci Blazer rounds. I purposely tried to limp wrist it, and I could not get it to Fail on me with those! That's going to be my carry ammo, because of this reason. Though I will switch to JHP's, once I get some more range time with it. Just to be sure.
ACCURACY:
I was very impressed with this little guys accuracy! I could get 1" to 3" groups, out to about 20', then I started to spread them out around 5" or so. Still hitting center mass easily, out to 25'. I can shoot this very closely to the performance I've gotten from Glock, inside of 15'. Here are 2 pictures of groups that I shot from 15' out. The top one is the very first 7 shots I fired.  
CONCLUSION:
I'm glad I made this purchase. According to some harsh critics, these guns jam, make your fingers bleed, fall apart, and are just plain junk! Now I only shot 150 rounds today, so my experience is limited, but so far I give this thing a 8 out of 10. If I have something else I can get away with carrying, then obviously I will. But if the situation comes down to me needing a pocket gun, I won't think twice about trusting the P3AT.
Here's a picture of my Glock 22, Extra mags, Galco high rise OWB holster, Federal Hydra shoks in a zip lock, Kel Tec P3AT, and Uncle Mikes pocket holster, for those interested. Sorry about clarity, its a camera phone picture.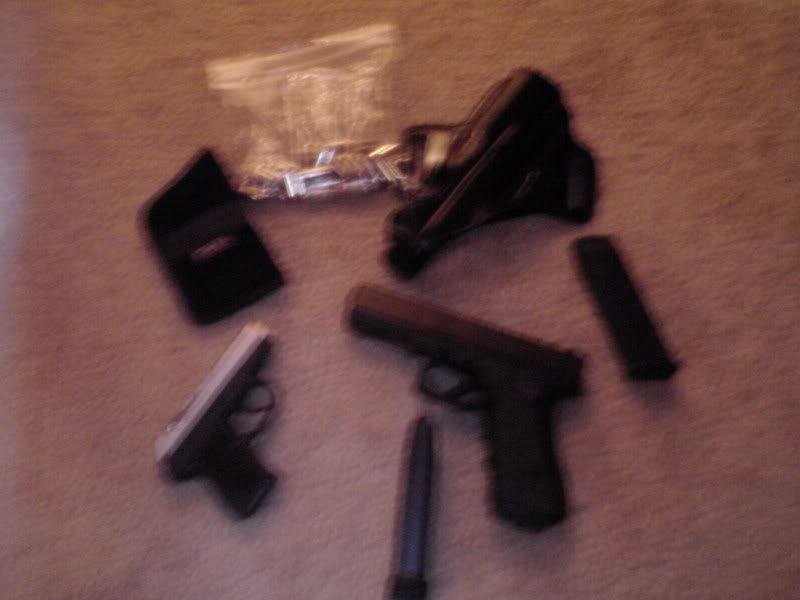 Hopefully you guys enjoyed this read. Feel free to comment.