My mom bought an old 12 gauge Springfield Model 67 Series D pump shotgun from one of my uncles some time back. It wasn't in great shape but not horrible, either. This is pretty much the same model of pump shotgun I grew up with as it is what my late father had for a 12 gauge pump. I have his but it rarely comes out due to the sentimental value. Anyhow, the one mom bought from my uncle was missing the ejector so I ordered a new one and replaced that for her. After I got that straightened out, we realized that it the last (fourth) shell in the magazine wouldn't load correctly. I think the mag tube spring is weak because the problem is that the last round doesn't completely exit the mag tube unless you hold the gun at an angle with the buttstock lower than the muzzle.
Well, as the years creep up on her, my mom's arm and upper body stamina/strength are lessening. She has a hard time holding long guns to her shoulder and that Springfield is pretty heavy. She is getting to the point that 12 gauge recoil is a little 'stout' for her, too. She has been wanting a .410 and she saw a Mossberg Security model .410 at a gun store and really liked it. I have been wanting a project gun so I bought the Springfield from her. She put the money I gave her for the Springfield toward a new Mossberg 500 .410 pump. It is a 'regular' model that has plastic furniture with a faux wood pattern - the LGS that had the security model is about an hour's drive away - but I am going to set it up like the security model for her.
Anyhow, I took off a couple of extra days to extend my Easter holiday. Yesterday (Monday) I had intended to fire up the tiller and begin planting my garden. The tiller had other ideas, though (wouldn't run) so I abandoned that, for now. Instead, I went to work on the Springfield. I ended up stripping the wood and redoing it and stripping and rebluing the metal all in one day (well, okay, I actually finished at 4 a.m. this morning.) The bluing could be better - probably a combination of getting in a hurry and having never done it, before - but it isn't bad. I am very pleased with the wood (I have more experience working with wood than with metal.)
First, I worked on the wood. For whatever reason, the rear corners of the foregrip/pump were buggered up. Looked almost like the foregrip wasn't original to the gun and someone had just broken the corners off so it would clear the receiver. I took the Dremel with the sanding drum to the corners to make them look more 'finished' and make them match, at least somewhat.
I then stripped the wood with 60 grit sandpaper. While I was at it with the 60 grit, I also did a tiny bit of minor modification. For one, anywhere that there was a 'corner' that didn't have to do with fitment to the shotgun I rounded the corners off - especially at the bottom edge of the 'pistol grip' portion of the buttstock. I also used the 60 grip to make the pistol grip portion ever so slightly more 'defined'. After that, I went over it with 400 grit to smooth it out and then polished it up with 600 grit until the naked wood had sort of a satin 'shine' almost as if it had some kind of treatment on it. What I found was that, under the original finish, there was some pretty nice lumber with a good amount of figure (grain pattern) on this old shotgun:
Original: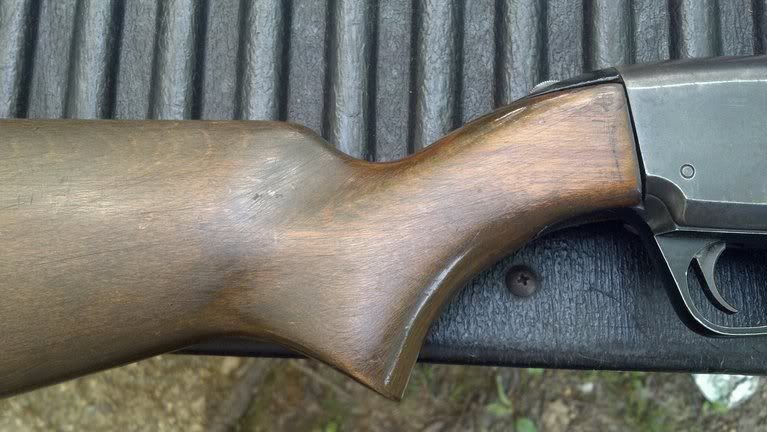 Sanded:
Original: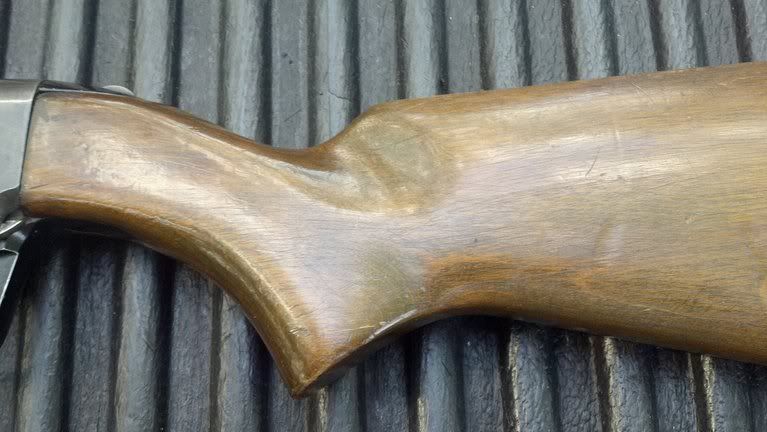 Sanded: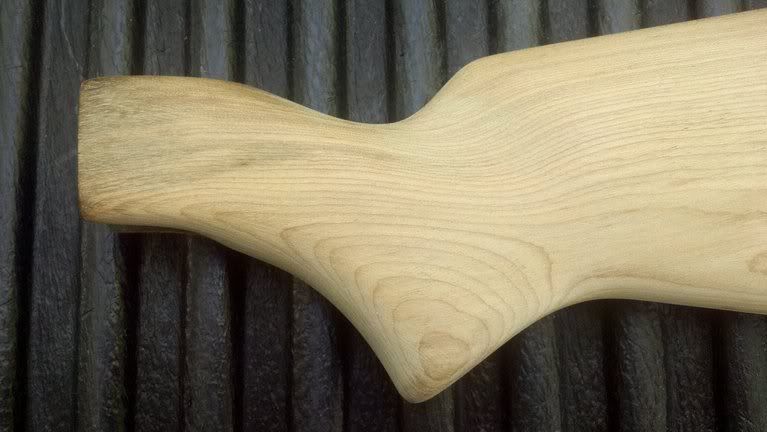 Original: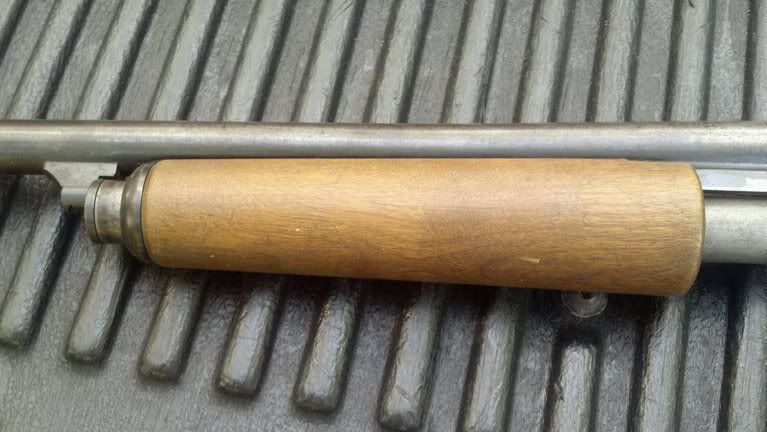 Sanded: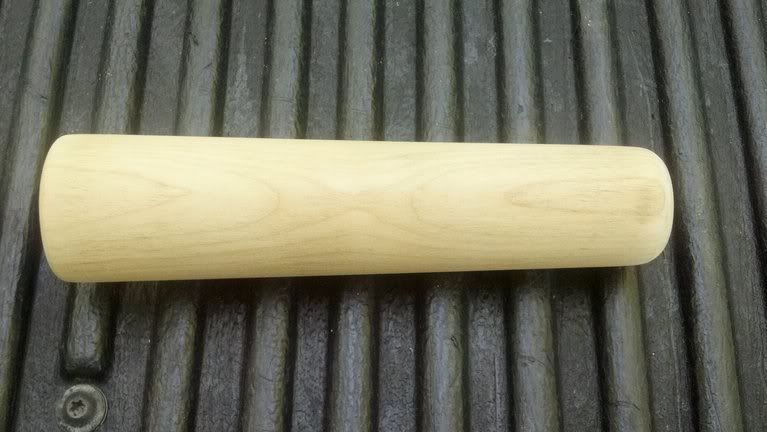 Because I am the type of person who can't understand why anyone would want to cover up such a nice piece of wood with a stain, etc. I wanted a treatment that would allow the natural beauty of the wood to come through. I didn't really want a polyurethane or similar - even a clear one - because I didn't want that much 'gloss' nor did I really want something 'over' the wood. I then thought of the can of Johnson's Paste Wax I bought to use as a metal protectant when my guns are going to be locked up for a while. It occurred to me that the more common use for Johnson's Paste Wax is as a treatment for hardwood floors. As such, I figured it would be designed as to let the natural color and pattern of the wood show through. I also figured that if it is tough enough to work on a floor - which may see a lot of foot traffic, furniture and so on - then it should be tough enough to work on a gun stock. This is how the wood looked after I put on one coat and buffed it a little: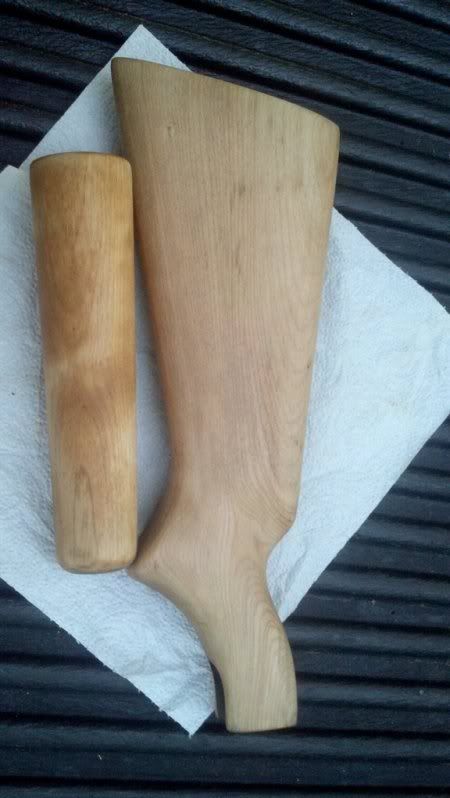 I actually ended up buffing that coat out more, until it had a pretty good shine. I later put on a second coat and let it dry for a couple of hours (while I was working on rebluing the metal.) Finally, I buffed that second coat to a pretty good shine, as well.
I used a Birchwood-Casey kit to reblue the metal. I don't think I need to recount the steps, here, as I pretty much just followed the instructions that came with the kit - with the exception that I heated each section of the metal in the oven a little before putting on the first coat. I will say, here, that I didn't remove the barrel or the trigger group from the receiver. Had this been, say, a Mossberg with its easily removed barrel, I would have. The barrel on this Springfield, however, is either screwed in (very tightly, naturally) to the receiver or else pressed in. Removing the trigger group would have required punching out a couple of pins and I could just see me marring the new finish trying to put it back in. As this was not an heirloom quality resto nor something that had to come out 'perfect' - more a chance for me to begin learning the basic tenants - I opted not to go to all the extra trouble or heartache.
I probably got in too much of a hurry doing the metal. I did prep it pretty well but could probably have gone further/done more. Also, I learned that next time I won't use those stupid daubers that are included in the kit for wiping the bluing on.
Lesson learned:
I think those small sponge 'paintbrushes' would work much better, allow one to work more quickly (so an entire section can be done before the bluing process needs to be stopped) and get better, smoother coverage. Certainly my inexperience played a part but I honestly think that a lot of the problems with my final results can be blamed on those daubers. Anyhow, here is a before pic of the entire gun (I had already removed the buttstock before I thought to take a picture so it is just sort of sitting there which is why it looks like it doesn't fit the gun right):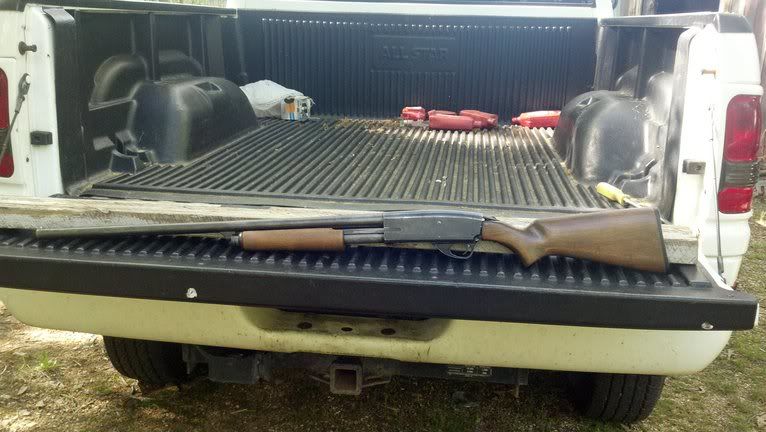 And an after (taken this morning - I reassembled it before I left for work):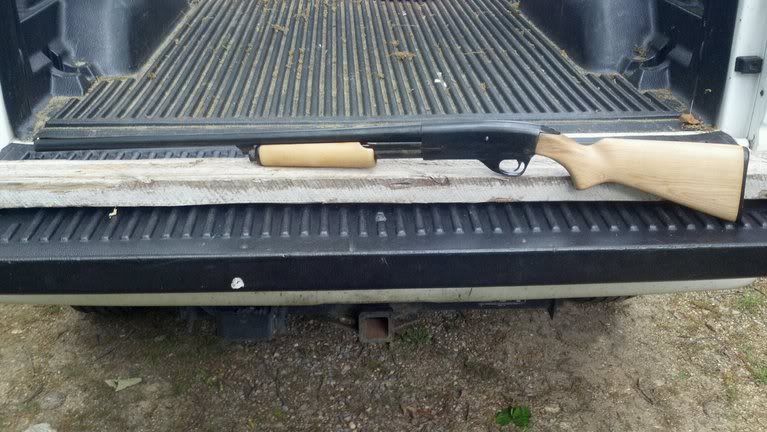 This one shows what I mean when I say the bluing job could have been better. Still, I think it is a definite improvement over the way it was - and I love how the wood turned out. This pic also shows what I did to the rear of the foregrip/pump to make it look better/more 'finished':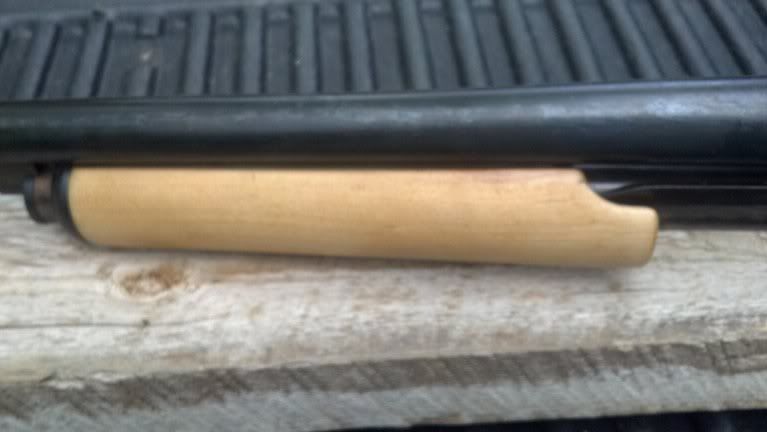 I am going to order a new mag tube spring for it and if I can get the feed problem worked out this will probably become my go to/workhorse shotgun. I think it is nice enough that I wouldn't mind 'being seen' with it but not so nice that I'd worry about dinging it, etc. I might even put a nice, cushy rubber buttpad on it.