I finally got a day ,just for myself, and I been wanting to get back in my woodshop.
I have had this project on my mind for a long time, just never got toit.
Well today I started at 10:00 am and only stopped for 30 min lunch, finished at about 5:00pm, and this is what I came up with.
I had used fence boards and posts, so I used them.
This cost me approximately $3.00 worth of coated deck screws. I have some olive drab paint , from some other project , and this will get a coat soon.
The umbrella is temporary until I can build a moveable ,metal sided shed around two of these.The lower section is detachable,
just sitting on a wooden hanger, for ease of moving. Rifle rests on both sides ,and the sitting bench is free floatin for big and small guys(guts).
It needed to be amidextrious cause I can only shoot handguns left side, and can still shoot long guns right side.Tble top is 6' x 33".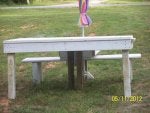 What you think?This was all done with one hand ,lefty aint so bad.
Any suggestions, advice, opinions will be much apprecaited ,as I got an open mind,(If there is one, I may have lost it).
Jim
Oh crap, thought I was in Accessories.