Discussion Starter
·
#1
·
If you've tried to purchase 1 3/4" shells lately maybe you found what I did... when they are found they are $1 per, when they can be found. I find that too expensive to practice with. My solution is to make my own and I'm in "Learning how to" mode right now. Is making them free? No, of course not, there is a cost to the gear, but once purchased most of the really expensive stuff gets used over and over. There are components that are expendable and they also have a cost.
I don't want birdshot, but that can be purchased if that's the goal. One can also practive with inexpensive 2 3/4" birdshot and use the spent hulls to make short shells. My goal is #4 buckshot and slugs. They are made of unobtainium at this time of anarchists/domestic terrorists in the streets and burning down the cities, so I'm learning how to cast my own. I never wanted to do this and resisted for years. But now it's forced on me. That's another story, but there is a learning curve to casting lead also a cost in mold(s) and a way to melt lead, yada, yada. I'm learning and am a noob at it but I'll get there. Proper gear still needs to come in so that I can be successful at it.
But I have been experimenting with and testing short length shells. That gear I do have on hand.
I don't plan on "Shazamm!" all of a sudden putting these short shells together magically. Instead I'm doing it in steps and testing each step along the way, learning as I go. Then at some point all those steps WILL be put together into what my goal is.
Factory 1 3/4" shells do indeed start with hulls that are 1 3/4" long. Where do I find components for that length? If anyone knows where at a reasonable cost please let me know. So I cut down longer hulls to 2" and then I can use off the shelf and commonly available components.(see link to video below)
One step in the education of making these is just to make a reduced shell and see what happens. So I took some Winchester loads using 1oz of #8 shot, and removed everything from the hull, saving the powder, wad, and shot, separately of course. The hull was cut down to 2", and the powder put back, the compression shock absorber cut off of the base of the wad and reinserted into the hull and pushed down firmly. Then 7/8oz of the shot replaced, an over shot wad put in place and a roll crimp applied. It was test fired with no problems.
So I made another 6 and fired those from the magazine. Again, no problems. I call that a success. But I didn't pattern them to see what they do on paper. At this point I don't care since the goal isn't a load for birds but #4 buckshot and a LEE 7/8 oz drive key slug load. I don't think the hulls will be usable for a second loading so I'll just buy a mess of hulls and consider them expendable.
The difference between Aguila factory loads and mine? Theirs are 1 3/8" long before firing and mine are 1 5/8" long. The magazine of the KS7 holds seven 2 3/4" shells. The Aguila allows 11 in the magazine. Mine might only get 10 in it.
Using existing shells and cutting them down as I did for the test costs time plus the cost of the shells. Shop around for shells that launches a payload heavier than 7/8 oz of shot and you're OK when replacing that larger payload with only 7/8 oz'. The shells needn't be expensive but they need to use a plastic hull and a wad/shot cup. Cost... OK, the cost of the gear to accomplish it needs to be figured in too. But that gets ameliorated over the numbers of shells produced. Aguila 1 3/4" shells cost (when I can find them) roughly $1 per. My time is free if I enjoy doing something and I like making ammo and always have.
I don't have a cost per shell for my made from scratch shells and probably never will, but it's going to be hugely LESS than factory Aguila.
I inquired on the CastBoolit forum re: casting #4 buckshot and I feel confident that when I get my new propane burner that I'll be successfully making buckshot out of scrap lead. A gent came back to my inquiry and gave me a technique that forces lead into the mold with the gear I already have.
The picture shows my experimental #8 shotshells and the Aguila version, also their 1 3/4" slug. The actual difference in length isn't easy to see in the picture, that's why I gave the measurements. The over shot disk is clearish (frosted in the center), that's why the shot can be seen, but the over shot disk is there to hold the shot in place. Replace the shot with buckshot or a slug and it's what I want to make. Could I hunt birds with shells such as that? Maybe. But I'd need to pattern a mess of them to see how the roll crimp affects the pattern. Other than reduced recoil there really wouldn't be any reason to use them since shotgun magazines get plugged to 5 rounds. Have you ever felt the recoil or even heard the shot when shooting at game? I never have. Might be OK for use at the range though.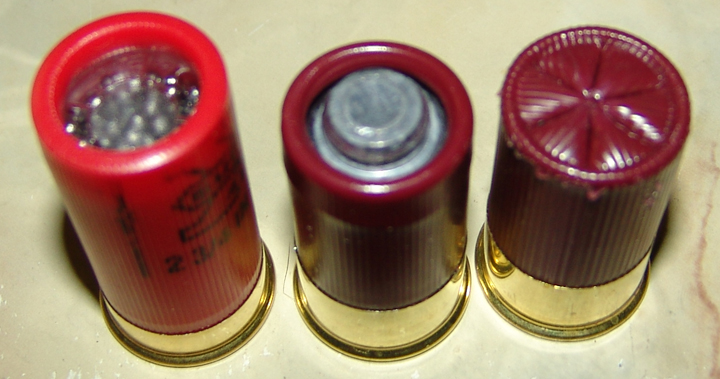 That's all I have for now. Other than a huge sense of accomplishment. I'm getting closer to my goal of short #4 buckshot and slugs for a decent price. Did I mention that I want to put at least a few hundred of each on the shelf "for a rainy day"?
To convert loaded shells to shorties requires:
3/4 PVC pipe, one piece 1 15/16" long cut square and accurately. This will be your gauge for trimming a long shell.
1 utility knife, fresh, extremely sharp blade
1 knife with a longer blade, very sharp.
small containers to contain the shot and powder taken from the shells.
A push rod (nothing fancy)
A roll crimp tool
A shell vise and a drill press
OR
hand "plier" shell gripper & another piece of 3/4" PVC pipe cut square @ 1 7/16"ish, and an electric drill
There is a youtube video that demonstrates the technique and watching it will save me all sorts of typing.
He uses spent hulls and needs to add a powder charge. He's using 20gr Alliant Red Dot, as I will. tapping out a spent primer and putting a new one in place is pretty simple and you should be able to figure out the basic gear required to get that done.
OK, I'll help. You'll need a punch to deprime and a flat surface and another piece of smaller ID pipe to fit inside the hull to drive a fresh primer in. Don't tap the primer itself or you'll find out just how loud one is when it goes off. Instead place it on a flat surface and either press it into place from the inside of the shell using a pipe to put force around outside the primer pocket, tap that pipe to drive the primer into place. But don't tap the primer itself. And make sure the tool used is hollow so that if one does go off it goes harmlessly into the air. Don't have your face or other body parts above it. Primers are explosive and have force. If you can find an old LEE shotshell kit they come with what's needed. They are no longer made.)