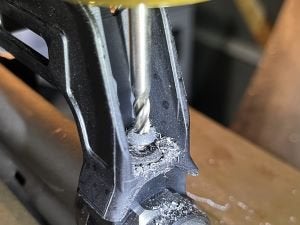 5
Hi Everybody,
Just picked up a KS7. Of course upgrades are in the works and some of the first ones involve the carry handle.
I was removing the mounting screws and ran in to some difficulty. The screw under the carry part was really on there, but the screw on the front was saying no, not coming off.
So after stripping the hex in the screw, I tried using a left handed drill, still no. Then I use an endmill to pop the screw head off, of course that worked. Then I used a pair of needle nose vise grips and some heat, I was able to remove the screw. Cleaned out the threads with a tap.
All in all, not a big deal because I'm a machinist and have the "tools" to do this in a controlled way. If I wasn't a machinist, I'd be extremely annoyed with the gun potentially having to go back to Kel-Tec. The handle shouldn't have to have this much Loctite to where you can't remove the screw. I'm not putting a top pic rail, but many people do and they would be in pickle not getting a screw out.
Anyway, not sure if this is one of those Kel-Tec things, but it's behind me now.
Here are some pictures of some of the process. I'll post again when I do the modifications.
P.S. Kel-Tec plastic does not like heat, like a flame. It just has to get a whiff and it's not happy.