Discussion Starter
·
#1
·
Don't know if everybody does this when they start, but I was going to keep a thread on my Kel Tec ownership. If the mods would prefer I just add info to other threads, PM me and I can.
I had discovered the Sub 2000 a while back and was very interested in it from the beginning. I finally decided I wanted to try and get one (probably to let my girlfriend [fiancé now] shoot more than myself). I started looking pretty earnestly and was having trouble finding one locally. I finally did, but it was priced well above retail, so I just wasn't willing to do it. Well, I was out killing some time yesterday and I dropped in the gun dept of a local store to look around. I asked the guy, you don't happen to have a Sub 2000 do you? As it turns out, they had just gotten a G17 version in and had it priced well below retail. I couldn't talk myself out of getting it! Bought an extra Magpul 17 rounder with it. I have a G19, but if the KT grip is much shorter, it seems like it would be a pain. I also have a Glock 33 round mag.
Haven't shot it yet, but playing around with it is basically exactly what I expected. I really like it and it should be a fun toy.
Of course, one of the main benefits to this thing is the foldability and the size. So I started looking around for something to carry it in. This bag works perfectly, an old briefcase from a place I used to work. It's pretty high quality and sized perfectly with good organization in it.
And in seconds: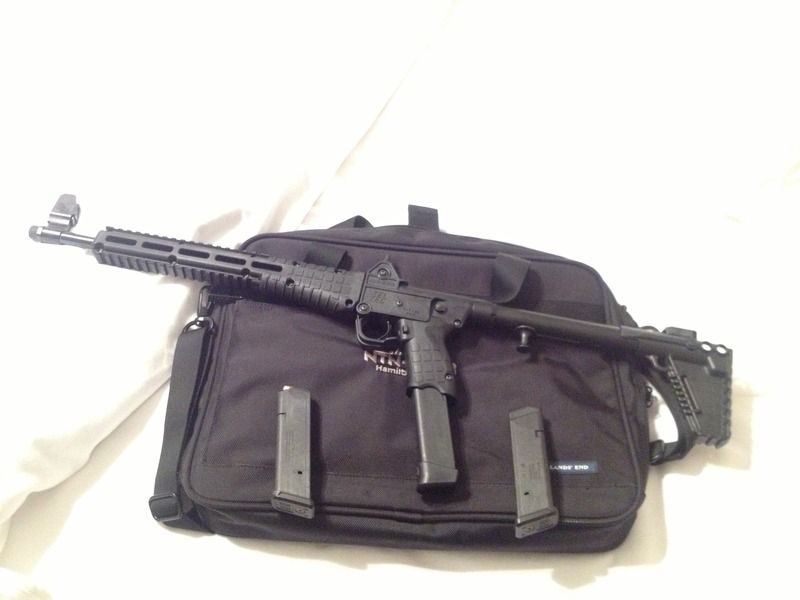 As far as mods to the gun, I don't plan to do much of anything, but we will see. I can see that the padded piece for the cheek would be good. And one of those streamlight weaponlights with the integrated laser and flashlight would be very nice. as well. Other than that, not much else needed, I don't think. I'll report back when I get to shoot it to add further thoughts.
-Bart