Discussion Starter
·
#1
·
That little shopping trip I did last Saturday cost me some more money today,
I went back to the Pawn Shop and haggled/negotiated for That CZ 453 rifle that I wanted real bad,
I only found one , on the interwebs for sale, it was $599.
He had a good price on it,
He wanted $360 + tx,
I wanted $300 + tax, so we met at $320+ tax.
He knew how rare it was also, and how purty it was, hanging in his shop, he told me so, and he was not coming down anymore.
This is not the Flagship 452 model, this is the best of the best. 453 Varmint.
So now I got to decide what scope I want to order for it, and hope that it shoots up to its reputation. That's a cheap china scope for now.
It has a set trigger, which is set at .5 lb,
without setting , its 2.5 lb for hunting.
Barrel is 21", tapered Bull .
action is 125 year old Mauser design,
Has a 5 round mag, but 10 and higher are available.
No sights. Leupold rings.
Bore and rifling are like its never been shot, and the bolt has zero wear marks.
Here is what she looks like.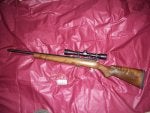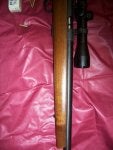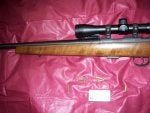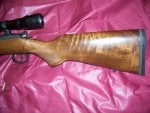 Jim