The KSG has been around for a while. We all i assume know this. I myself have been a supporter for it from the get go.
Over the years though. Not a lot of aftermarket products have been available compared to the AR platform and what not that carry a cult following of sorts.
A lot of chest rigs claim to be set up for shotgun but not the KSG. The people at Hi-Tech claim their set up for the call for use with the KSG. So. Here is my opinion and review of what i see with the product and similar products and how i choose to set one up. For the KSG.
The KSG carries 15 rounds in the base set up.
(Yes mini shells add more rounds but lets talk about that later)
the stock shell cards on the chest rig only hold 7rounds each giving a total of 42 rounds. However! The cards are made using cheap elastic. And if you intend to only stand around at the range. The shells will not fall out. However if you intend to actually trust the shells to stay put while you shoot and scoot.... i suggest upgrading.
I choose Brown Coat Tactical 12ga cards in a 7 & 8 round configuration. For a complete reload per pouch.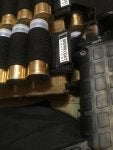 And they are the best of course.
The KSG chest rig comes with a TacMed tear off pouch. Of which i have equipped plenty of but not too much. I have compressed to a means to stop bleeding if its possible. I suggest you take medical training from someone who knows how to treat wounds. As GI joe said. "Knowing is half the battle."
I have two Cat7 tourniquets, a rat, 3 pair gloves, a TacMed bandage, wound pack, 2 occlusive dressings, suture kit and needles, 2 duct tape rolls and a space blanket, and electrical tape and odds and ends. Packed fairly good. But. I would have liked to see a better foot print for the rig when it comes to the Med pouch. So the tourniquets can fit inside in one package. I will likely seek to change it out as well with a different pouch. But. For now its fine. I'll do a few tac courses to see how it holds.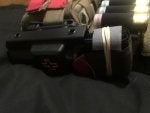 There is a flat pouch on the back of the shell cards.
I have used this location to store extra pistol mags and misc gear, (fire, light, and ect.)
I have chosen to secure the snap buckles of the H harness with tape and attached a pistol.
All together the rig fits good. Is not too overly cheaply built. The back pouch could have been made with square walls to fit a bit of gear a bit better like a Hill People rig.
If the idea where to have a quick grab rig that could provide you enough gear to move or fight. It would make a good base option.