... much less how to put it back together. Sorry, maybe someone else can help.
I'll try. Here's a pic of the OEM pivot block
(upper)
along with an after-market replacement.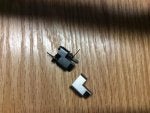 The longer spring leg bears against the sight housing and the short leg against the pivot block. The orientation in the pic is how it was positioned when I disassembled mine.
Hope this helps
A
o
G