Discussion Starter
·
#1
·
I cleaned and lubed both my P3ATs over the weekend and took them to the range yesterday. I didn't do any sanding, just a plain old clean, with a lot of lube. One is a First Generation and the other is a Second Generation. I don't think either one has had a full box through them before yesterday.
Here are my two targets from around 7 yards. The left target is the FG and the right target was the SG. I swapped pistols and targets after every magazine. Ammo was PMC Bronze 90gr that I got at the range.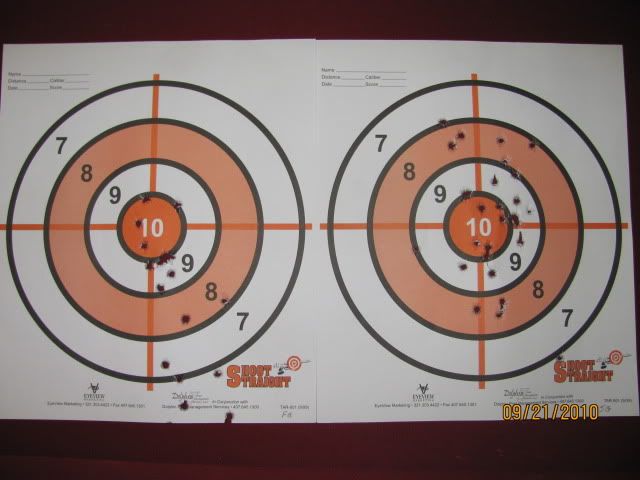 I feel I am more accurate with the SG. Even if I aimed high with the FG, it seemed I shot low. The FG trigger seemed fine to me for Double Action. The SG trigger was difficult. It seemed very long, and several times, I felt I had it pulled all the way back and the gun did not fire. I was able to manipulate my finger different on the trigger and get it to fire, but I did not like this at all. Is there a way to shorten the trigger pull on the SG?
Both guns worked great otherwise, and I only had one ejection problem with the SG. The shell got pinched in the slide on the way out. I think I may have "limp wristed" that one. The thing that concerns me is the empty brass looks horrible, especially on the FG. Here are some pics of the empty brass.
First Generation Brass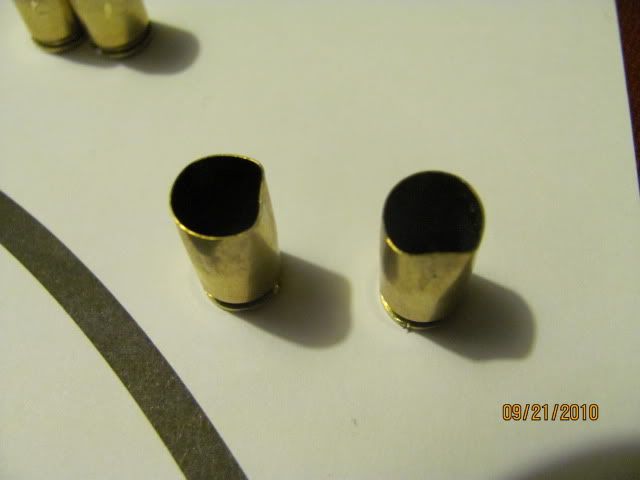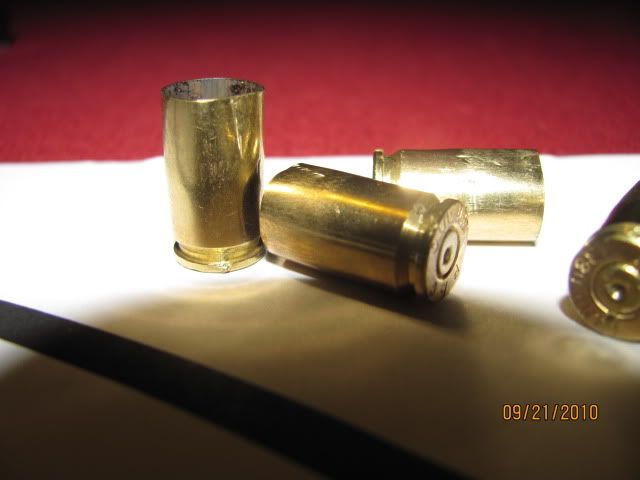 You can see how the brass is dented and you can see where it looks like the extractor is ripping the the lip on the case.
Second Generation Brass
The brass is still deformed, but not as bad as the FG. The extractor barely leaves a mark on these.
This deformed brass is ejecting, I'm just thinking that it may lead to future problems. I have picked up thousands of empty brass in my life (My dad was a reloader), and rarely saw brass that looked like this. Most of that brass was larger calibers though.
I'm going to give the guns another cleaning and maybe sand a few spots and take them back to the range. If all is well, I'm going to sell one of them. I'm leaning towards keeping the SG, but will have to see and see if I can fix the long trigger.