Discussion Starter
·
#1
·
I have been looking for a nice little gun to stick in my BP vest for work as a backup for some time now.  I researched the P3AT and the LCP.  Both guns are the size I wanted but given the customer service and the raves about the KelTec I decided to go with it.  
Well, I overpaid for the gun due to my location and LE being the only one who can get them.
So off to the range I go after the FB job I read about on this forum.  I only had one old box of remanufactured ammo so I could only shoot 50 rounds. I know this is no torture test but its all I had.  
Let me say that shooting the gun was surprising. It was more accurate than I had hoped for and there was not one failure with the weapon.  Again I know only 50 rnds but I was happay as could be.  The trigger was about 5 lbs but smooooth as my G22!
The pic is from my phone but it was 10rnds at 10 yards and given the group I got for the first time shooting it I had to get a pic.  It look less than 10 rnds but they are there trust me! I shot two handed combat stance not as fast as I could pull the trigger but as fast as I could get the sights back on then press.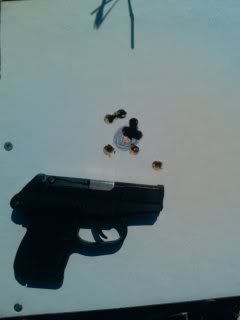 Plus 1 for the P3AT!!!
Semper Fi
1*