Discussion Starter
·
#1
·
Well , I seen this one the other day in a pawn shop.
I cant tell if its ever been fired , or even handled. Its 100%.
As I have said before....when I lose sleep over a gun, it usually ends up coming home with me, if it don't leave before I get back to it.
So I went back today and just walked up the owner , told what Id give , (done my homework) and was prepared to negotiate up a little... and he said "man your killing me"....he always says that. He knows me well.
He says "I'm closing in 30 minutes, lay the money down and get it outta here"
I was smiling from ear to ear.
I been wanting one of these for a long time, try finding a used one, (gunbroker , etc,) they are hard to find.
So I brought this one home...with plans for many barrels and grips.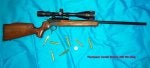 Hope to get a range report on Monday.
Jim