The first firearm I ever owned, in my early teens, was a Stevens 9478 single shot, break action .410 shotgun. It was a Christmas present from my parents. Back then, it did a lot of woods roaming with me. Then, a few years later, I got a single shot 12 gauge (also a Christmas present from my parents) and the little .410 began seeing a lot less action. As the years went on, the .410 became more and more a nostalgic reminder of younger days and was rarely fired. One of the few times I did get it out, there was a mishap which ended with the buttplate being cracked and a sizable chunk being broken off of the buttstock.
I glued the buttstock back together. It held fine but the line where it was glued was obvious. I also glued the buttplate back together but it would not hold. I really didn't want to spend the $$$ to put a new buttstock on it since after it was glued it was structurally sound so I put one of those rubber slip-on recoil pads on it to cover the crack and so that the busted buttplate wouldn't hurt my shoulder when firing it. I was never really satisfied with that solution, however. Despite the fact that I rarely used it, I just felt that my old friend deserved better.
Recently, my mom decided - due to physical issues - to go with a .410 pump for her general use/defensive shotgun. This renewed my interest in my little .410 and spurred me to work on a better solution for the cracked buttstock/buttplate problem.
I have seen 'frontier' type guns that had leather appointments, particularly leather buttcuffs, and decided that the 'look' of my old single would work well with that style of buttcuff. The more I thought about it, the more I decided that something matching on the forestock would look nice, too. Well, after making a pattern, doing some punching, sewing and lacing, this is what I ended up with: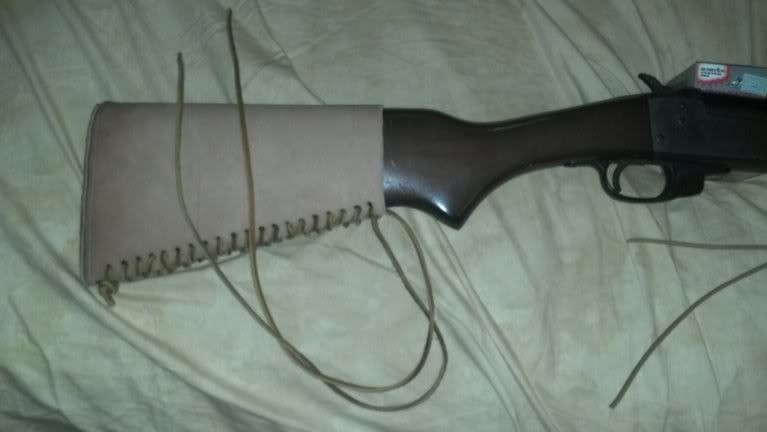 Well, I thought that looked okay but wasn't entirely satisfied. I wondered if it wouldn't look better if the forestock cover was a little shorter, allowing some of the wood of the forestock to be exposed. I also decided to wrap the forestock area in plastic wrap to protect he barrel from moisture so I could wet mold that forestock cover to the forestock/barrel a little more. I did that, let the leather dry, loosened the forestock cover, removed the plastic wrap and then tightened the forestock cover back into place. I decided to do a braid hanging from the forestock and remove the extra lengths of thong/lacing from the buttstock
I also decided to color the leather. I like the idea of using 'natural' stains, etc. and have used coffee to stain a leather holster. I tried coffee on these leather pieces but wasn't happy with the results I was getting. I then started thinking about how the outer hulls on fresh walnuts (not the shells but the hulls outside the shells) can stain things, including your hands. There were some walnuts left over from last year that still had at least parts of that hull attached. I soaked a few in water and rubbed them directly onto the leather. I got a nice color but unfortunately didn't realize just how abrasive walnuts are. I knew they were rough but, despite being careful, the walnuts put quite a few scratches onto the leather, especially on the buttcuff. Lesson learned. Anyhow, then I had this - the color/stain on the leather coming entirely from those walnuts: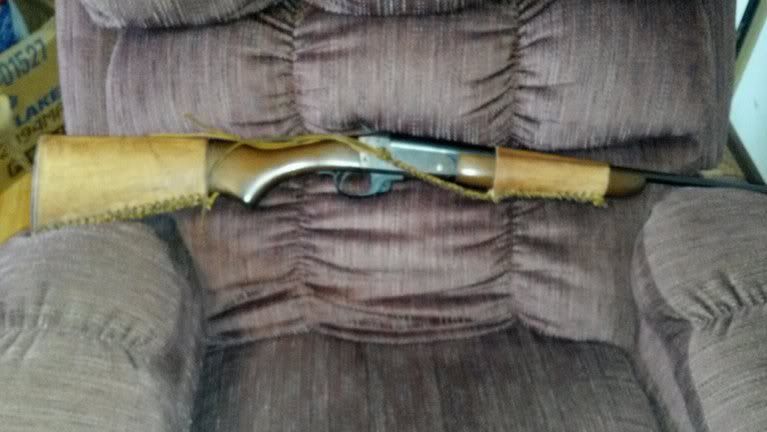 During the course of all this, I decided that I want to return that old single to its previously held position of 'woods walking shotgun'. I like that this little Stevens is so light and handy - plus there is the nostalgia factor. The largest threat I would commonly be worried about in the woods around the house would be a coyote and, honestly, the most likely threat would be copperheads. I would still carry a sidearm so I think a single shot .410 with a selection of a couple of ammo types will fill that role for me just fine.
Now, I know that single shot shotguns are almost 'perfect' for just carrying in the hand but I started thinking that, for woods walking, I might sometimes want/need the use of both hands. I was also trying to think of a way to carry a few, extra rounds on the gun and didn't really want to add shell loops to the buttcuff, itself. All this made me decide to make a sling with an incorporated shell holder. I did that by simply braiding the same type of leather thongs I had used for the lacing. I braided them in three pairs of two so that the sling would be wider/flatter. I also made a shell holder out of leather. I had left some of the walnuts sitting in a bowl of water for a few days. The walnuts had absorbed some water while shedding small particles from their hulls. The result was kind of a dark, thin 'sludge'. I used that 'sludge' to color/stain the shell holder by applying it with a sponge. I also used the sponge to apply some of the 'sludge' to the buttstock cuff and the forestock cover to try and make them a little darker. This process worked much better than rubbing the walnuts directly on the leather and I will be using that method again in the future. I haven't yet stained the sling and don't know if I will decide to do so or not - the leather thongs were already darker than the pre-stained leather, anyhow.. Otherwise, the finished product looks like this:
When I first finished the original buttcuff/forestock setup, I took the gun to mom's house to show her as I know she likes the 'look' of such things, too. She liked it so much, in fact, that she wanted me to do her .410 the same way. I told her that I couldn't do the forestock cuff on hers since it is a pump and the forestock piece would get in the way. As part of her Mother's Day present, though, I did make a piece for the buttstock on hers. I haven't put a stain/color on hers, yet, and will let her decide if she wants it stained or just left natural after she sees how mine has turned out. The buttstock piece on hers turned out like this: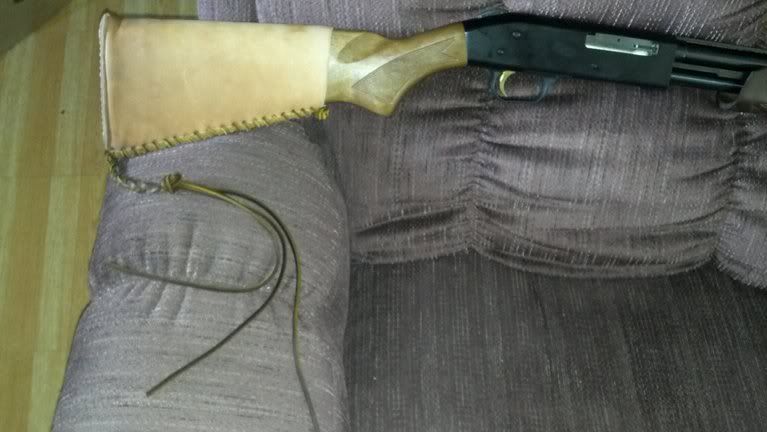 I decided to leave the braid on the forestock piece. Partly this is because I just like the way it looks but I found it also serves a functional purpose. If I wrap that braid around my hand a few times while shouldering the shotgun, it helps me hold the gun a lot more steady. I know the sling could be used in a similar fashion but using the braid seems quicker/easier.