Discussion Starter
·
#1
·
  While returning from grocery store today, I observed the car in front of me hit a raccoon. He didn't stop but I and my trusty plastic bag did. That raccoon died for a good scientific cause.
  First test preparation: 1.5 inches of newspaper on dirt. Five inch thick raccoon on top of paper. All shots fired from top of 6 foot stepladder.
DPX results:
1] Two rounds through and through raccoon, through newspaper and more than 6 inches deep in dirt. No bullets were recovered but holes through paper and dirt were huge so I assume they expanded fully.
2] Added phonebook on top of paper, with several sheets of paper on top, then raccoon. Two rounds through raccoon penetrated 2 inches into phone book. Both rounds fully expanded and petals slightly bent back Expansion 5/8 inch diameter.
  You may remember from my previous DPX phone book test, None of the brands expanded in the PB except Win Silvertip which partially expanded. The DPX did penetrate entire phone book though and was the only round to do so.
http://www.ktog.org/cgi-bin/yabb/YaBB.cgi?board=104;action=display;num=1146246090;start=0
  This time, the DPX hit the flesh of the raccoon first, (after passing through about an inch of fur) and expanded fully.
  It has been my experience that animal fur is a far more potent clogger of hollowpoint bullets than a few layers of denim:
http://www.ktog.org/cgi-bin/yabb/YaBB.cgi?board=104;action=display;num=1116691319;start=0
http://www.ktog.org/cgi-bin/yabb/YaBB.cgi?board=104;action=display;num=1116522705;start=0
 Fur does not impede DPX at all.
Speer Gold Dot results:
  All jackets remained attached to Speer bullets.
1] Two rounds through raccoon and 1.5 inches of newspaper and deep into dirt. Small holes in newspaper indicate no expansion. Found one bullet about 4 inches deep in dirt. Bullet was mangled, but not expanded.  Coud not find other bullet because needle nose pliers only reach six inches deep.
2] Raccoon on phone book. Two rounds through raccoon and into phone book. One round penetrated about 1/2 inch in PB. This round, while not mushroomed, was flattened out to about 1/2 inch diameter. Second round penetrated about 1 inch into phone book. This round did not expand, but was severely mangled and measured 3/8 inch at widest point.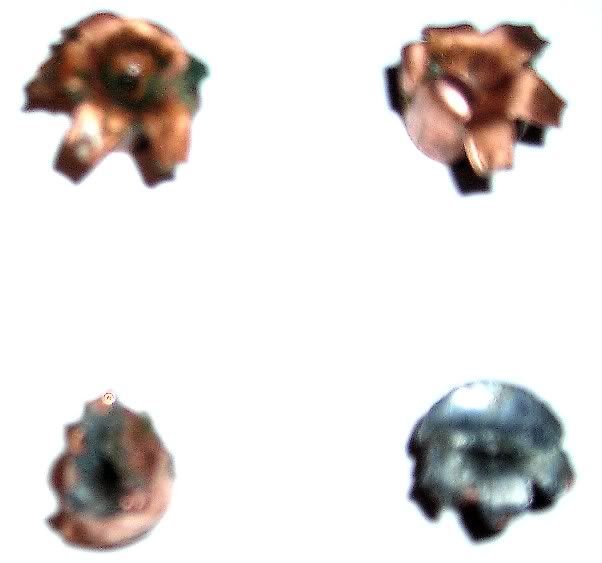 Above: First, DPX then Gold Dot rounds, recovered from phone book after passing through raccoon.
Conclusions:
  DPX is an awesome round even from P3AT. In first test, the fully expanded bullets penetrated a five inch raccoon, 1 1/2 inches of dry newspaper, and at least 6 inches of dirt, leaving a 3/4 inch hole in everything.
  In the second test, two fully expanded rounds were recovered after penetrating 5 inches of raccoon and 2 inches of dry phone book. Huge holes in both raccoon and PB. Fully expanded DPX, after going through raccoon, penetrated one inch further into phone book than unexpanded Speer Gold Dot, and more than 1 1/2 inches further than mostly expanded Gold Dot. I can only assume that a fully expanded Gold Dot would penetrate even less. Recoil from DPX and Gold Dot seemed similar. They both kick a lot more than WWB, but it is perfectly manageable. On one of the DPX tests, I forgot to put on my ear protection. These are very loud shooting rounds.
  IMHO, how a bullet performs through actual flesh is at least as important if not more so, than how it performs in any "contrived" medium.
  This DPX is far more powerful and damaging than any other .380 round I have tested. I am convinced that I am now carrying the best defensive round available for my P3AT.
  Excuse me, now I have to go bury a raccoon.
Packer.