Discussion Starter
•
#1
•
This past weekend I shot 220 rounds through my new PF 9. 100 Winchester white box, 100 Federal and 20 Hornady custom hollow points. Was a bit nervous with the amount of FTF, FTE, and double feeds that I hear plague this pistol. But to my suprise no hiccups! Although I was suprised that the recoil was felt more with my PF9 then the Glock 27 I had rented. Anyways I'm 6'4", 270lbs and have bearclaws for hands plan on putting on a Hougue grip and doing some other mods. As this is my first Kel Tec. Here are my questions I'm hoping to get answered.
1. Are there any after market night sights for the PF9?
2. Is a laser guide rod available?
3. My first grouping was almost 4" to the left of my point of aim. Should I be concerned or adjust sights?
4. I'm all about having spare parts, what have you noticed goes first and or good part to have on standby?
5. Aftermarket barrels?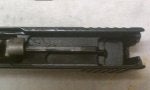 My apologies have these questions been posted already on past threads.