Discussion Starter
•
#1
•
I made my normal trip to the range today. I usually meed 3 other guys from work, their wives, and a friend there at least once a month. Three of us have a decade each of teaching people the safe, proper use of firearms, have quite a few between us, and have been known to take new people out, let them learn to safely shoot, and let them handle and shoot a large variety of firearms to find what best suits them.
Today was no different. We all met out there, with another co-worker and his wife who both have rifle/shotgun shooting experience (she helps out teaching shotgun instruction with The Boy Scouts) and wanted to try out a few different pistols before buying one.
We had been there, on the firing line, for about 20 minutes. They were on their 4th pistol, testing them out, when she wanted to shoot my Sig P238.
As I'd never seen her shoot before, I was standing about 10 feet to her Left and about 5 feet behind her, watching her shoot.
After the fourth round, the brass casing flew down her shirt and caught in her bra. Instead of reaching for it with her off hand, or putting the pistol down, before anyone could blink, she reached for it with the hand the pistol was in, pointing it across her body, to the left, and also turned to the left, sweeping me with the pistol.
Before I could say a word, she hooked her thumb on the casing and reached for it with her index finger, that was still through the trigger guard.
Yep. The fifth round in the gun went off. I looked down, looked at another co-worker there at the range (who's a volunteer fireman), and started shaking my head. When the round went off, she jumped, screamed, and immediately put the pistol on the table. Then I said, as calmly but as loudly as I could, "I've been shot and I need a cold range."
I limped over to the trunk of my car, got a roll of paper towels, surgical tape, and a tourniquet, then pulled up my pants leg (which was already soaked, from the shin all the way down with blood) to inspect the damage. Sure enough. I took a 380 round straight to the shin. I bandaged it, put on the tourniquet, told one guy there to pack up my stuff, put it in the trunk of my car, and have his wife drive it to the ER for me, and set out for the ER with the volunteer fireman, the girl who had shot me, and her husband.
The entire time I put on a brave face and told jokes to keep her from freaking out over what she had done. When we got to the ER, I calmly smoked a cigarette, walked myself through the front door, and explained to them what had happened.
Here are the results: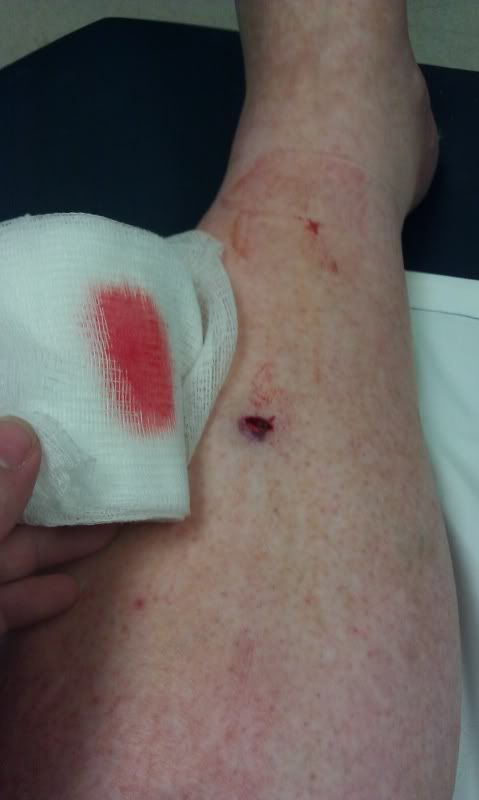 Yep... that's a Blazer Brass, .380 ball round in my left leg. They don't want to remove it, as it's not obstructing anything (we all weighed the risk of leaving it in place, as a .380 size piece of shrapnel that isn't doing any further damage, against removing it and running the risk of making things worse with cuts, staples/stitches, etc.)
To keep all my friends in good spirits and to let them know that I was okay, after leaving the ER, we all went to a local restaurant and ate. I then went to Wal-Mart (and kinda over did it there) with my father, Sag, and I then came home and cleaned the firearms that we used.
I'm now sitting here with it propped up, trying to figure out what piece of Karma was bad enough to hit me this time.
Cy