As some of you have read in other threads, I've been having a bit of an issue getting things repaired in my apartment.
I moved into this complex in April of 2009, and I've loved it here. Great neighbors, low crime, awesome rent, within 5 miles of EVERYTHING I need, etc. In July of 2011, I moved from my upstairs 2 bedroom, to a downstairs 3 bedroom, which made it even more awesome!
Unfortunately, around that same time, the maintenance person quit, and we've gone through at least a dozen people since. I found out from the last guy, when I saw him in town the day after he quit, that the complex wants one person who is HVAC certified, certified plumber, certified electrician, general handyman/carpenter, pool guy, carpet guy, etc., and will only pay $10 an hour. Yeah... you're not going to come close to getting someone to stick around for that. Most have lasted about two weeks, before simply quitting.
This puts a strain on any repairs that are needed. And by a 'strain', I mean a SERIOUS strain.
In July of 2011, when I first moved into the 3br, I reported a busted bedroom door. NINE MONTHS LATER, it still isn't replaced or repaired and will not close/open.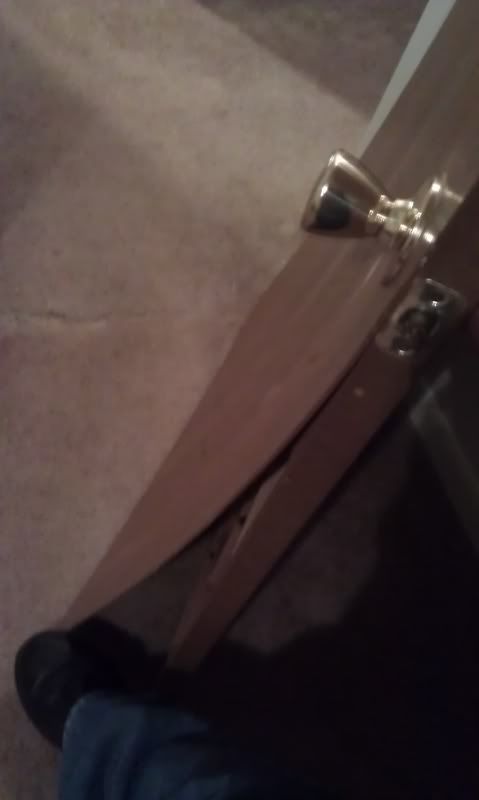 The busted door was again reported on 1/4/2012, on 3/20/2012, on 3/26/2012, on 4/16/2012, and again on 4/18/2012, and has yet to be repaired.
On 3/20/2012, I also reported a leaky faucet in the master bathroom. Leaking at a rate of 1 gallon every 9 minutes, 25 seconds. FOR FIVE WEEKS! (if you round that up to 1 gallon every 10 minutes, that's 5,040 gallons of water wasted, so far, because they haven't made requested repairs). I'm glad I don't pay for water here.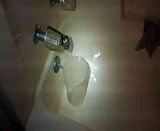 The leak was again reported on 3/26, 4/16, and 4/18, and has yet to be repaired.
On 4/16/2012, I also reported that my oven had stopped working. It actually stopped working the week before, but from the previous repair issues I've had, I decided to fix it myself. The oven temp will only get up to 180 degrees, and that's only if I turn it all the way to broil. This isn't even enough to cook a frozen pizza, so I ordered a new upper element myself and replaced it. It still did not resolve the problem, so I took it back out, returned it, and reported it to the Apt Manager.
It has now been FIVE DAYS since I reported it, and I'm STILL without a working stove.
On 4/18, I contacted the Apt Manager, spoke with her, and finally used my "stern daddy voice". Obviously, she didn't like this at all. She told me that she would have someone out first thing in the morning, on 4/19, to make all the repairs, then hung up on me. At 13:00 on 4/19, I started calling her. She will not answer the phone when I call and has yet to return any of my calls.
They have a "sister" apartment complex, owned by the same people, and bring over their Maintenance Person for repairs.
At this point, since the Alabama Landlord Tenant Law does not have provisions for withholding rent, starting a 'Rent Escrow' with the court system, and they have flat refused to let me make the repairs and take that money out of my rent. In other words... I'm stuck.
I have taken my ONLY option and sent them a certified letter, explaining in detail all the repairs that need to be made, the portion of the lease that I signed that details repairs, the portion of the Alabama Landlord Tenant Law that pertains to repairs, and a copy of the complaint I filed with the BBB. At best, this gives them 14 days (after receiving the letter) to make the repairs, or they default on my lease and any deposits made.
I will then have 60 days to find another place and vacate the apartment. Once that's complete, I 'can' sue for moving expenses, move in expenses, fees, and deposits for the new place, and if they have not returned all deposits made to them, they will be added as well.
This is NOT a route I want to take. I'd simply prefer that they come fix the three things that are wrong with the place, and we both go along with our happy lives.
I have been here for years, currently have one of the most costly apartments in the entire complex, have had zero complaints for the entirety of my being a tenant with the complex, and I have never been a single day late on paying rent. I also do all the 'little' repairs myself, such as clogged drains, broken plugs, etc., instead of calling for maintenance for every small detail... so you'd THINK they would want to keep me as a tenant.
I now have a bedroom no one will sleep in because they door won't open/close, a bedroom no one CAN sleep in because of the sound of the dripping faucet from the attached bathroom, and I can't even cook myself a meal unless it's straight out of the microwave.
Thanks for letting me vent.
Cy