Recently, my mom decided that most/all 12 and 20 gauge pump shotguns were too heavy for her to effectively hold to her shoulder for any length of time. She has always, until recently, been pretty physically strong and isn't a novice when it comes to firearms but now has fibromyalgia as well as some arthritis in her back. Due to these things, she has also become more recoil sensitive and says that a 12 gauge or even a 20 'kick' too hard for her to handle even just loaded with field loads. This would, of course, be especially true in any 12 or 20 that would be light enough for her to handle well.
With that in mind, she decided that she wanted a .410 shotgun for general and defensive use. She ended up with a Mossberg 500 .410 pump. As part of her Mother's Day gift, I bought her one box each of the Winchester PDX1 .410 defensive ammo (the kind with plated 'defensive discs' as well as plated BBs) and Federal Personal Defense 'Handgun' .410 buckshot. Both are 2 1/2 inch. I know the Federal stuff was developed with The Judge in mind but I wanted to see what it would do in a full-size shotgun.
Also, mom's acquisition of her .410 pump started me to thinking about the old Stevens break action, single shot .410 that was my first ever firearm (I still have it.) I ended up getting it out, dressing it up a little (more on that in another thread) and deciding that I want to return it to the position of 'woods walking shotgun' - a duty it did a lot when I was much younger, back when I first got it. Also, while it certainly isn't a main defensive firearm, for me, I like to be prepared to best use any of my firearms for defensive purposes if I am pressed to do so. To that end, I decided to test one round each of the PDX1 and Federal Personal Defense ammo out of my single.
One thing I took note of when purchasing the ammo (I found both at a local Walmart) was that the prices per box were within a few cents of each other even thought the Winchester comes in 10 round boxes while the Federal comes 20 per box. Effectively, this means the Winchester costs roughly twice as much as the Federal. I was going to have to see some pretty significant, superior performance out of the Winchester before I would think it was worth the extra cost. So, here is how the patterning turned out.
All shots were fired from a distance of ten yards, measured with a tape measure. First the Mossberg pump: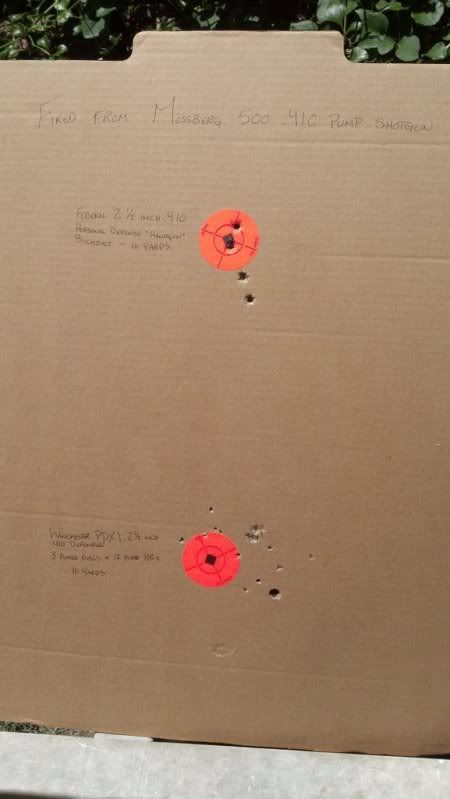 The Federal is at the top while the Winchester is at the bottom. A closer look:
And secondly, the results from my Stevens 9478 Single Shot: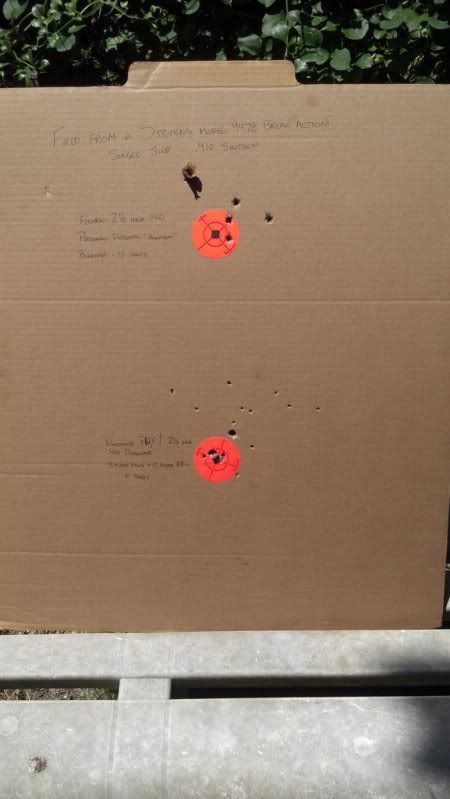 Again, Federal on top, Winchester on bottom. You can see that the shot cup from the Federal stuck in the cardboard pretty close to the shot pattern. Closer looks: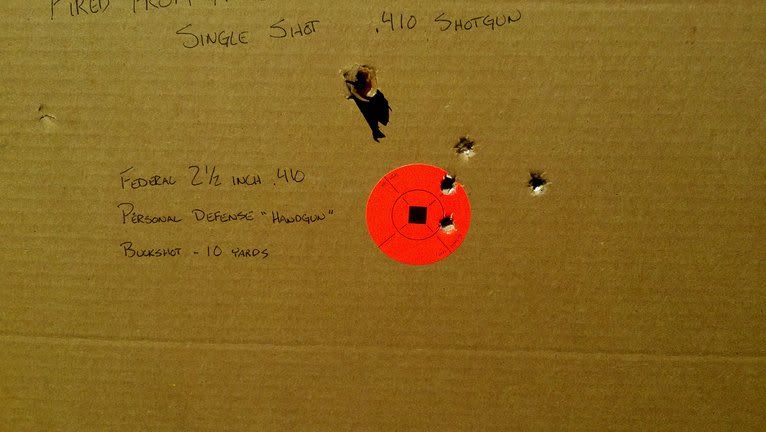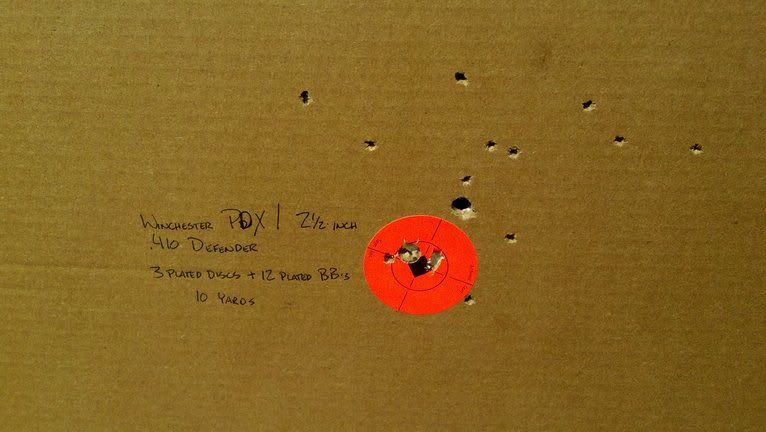 I know that the .410 is much maligned and that it isn't exactly a 'powerhouse' when compared to other shotguns. That said, I believe that within reasonable distances, either of these rounds fired from a .410 shotgun is going to be capable of totally ruining an assailant's day. For my 'woods walking' purposes around the house, while I would be most likely to use #6 shot with snakes in mind, I could also carry one or two rounds of 'heavier' ammo. For that purpose, I think either the PDX1 or the Federal would deal with any four legged nuisance/threat I might come up against (the largest of which would most likely be a coyote.) I did notice that there was a little more recoil from the Winchester in both mom's pump and my single shot. I wonder if that is because the Federal is more 'optimized' for a handgun than the Winchester. I don't know how much, if any, extra 'oomph' on the receiving end the extra recoil would translate into but doubt if it would be enough to be a significant difference.
Personally, based simply on the pattern achieved and relative 'damage' done, I don't see that the Winchester is worth paying almost double the price of the Federal. Eventually I might get around to blowing up some water jugs with these rounds to see if either gives superior penetration over the other. For now, though, I will be buying a box of the Federal for my single. When I showed her the results, mom also decided to keep her pump loaded with the Federal and said she probably wouldn't buy any more of the Winchester. Her .410 certainly doesn't have the power of a 12 gauge but loaded up with good ammo I don't think I'd want to be an intruder on the receiving end of it.