Discussion Starter
·
#1
·
If you own a
SECOND GENERATION
P-3AT, I am in need of a couple of measurements. A caliper will be necessary.
There is a fair amount of tolerance in the positioning of the semicircular hole behind the sight and I'm trying to determine how much it varies from pistol to pistol. I have several samples already, but the more measurements I get, the better.
See the picture below. Segments A-B and K-L will indicate centering; B-C is the depth of the sight notch, D-F shows height, and F-I the front-rear length. To get D-F, you may have to measure from the top of the sight (at center of the black dashed line) straight down to F, then subtract the value of B-C (depth of the sight notch.)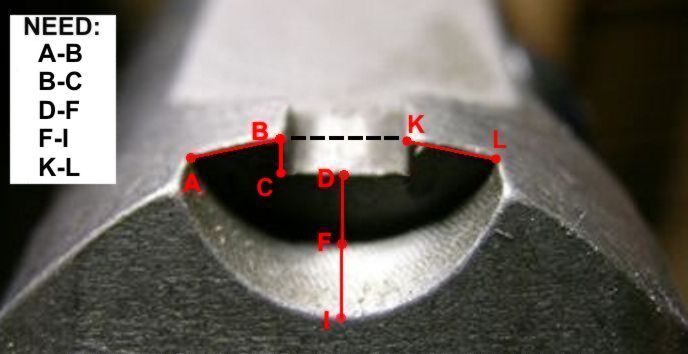 Any help you can give will be most appreciated. Be sure to tell me which model pistol you have along with the measurements. Please send it to me via PM or email, instead of posting it in this thread.
Thank you very much!