Discussion Starter
·
#1
·
First of all let me say,GREAT SITE! I am so happy this forum is here and I hope I can be a contribution to the community. Next let me say that I had always been on the fence about this gun but once I got it home and it was mine... I am in love with this gun! Such a great little package that I have NO reason not to carry it.
However... I think I may have one of the problem children I read about. Why oh why couldn't I get one of the ones that perform flawlessly from day one till death!? Anyhow, I'm hoping you vets can help me here. I have tried the search feature but for some reason it's hanging up on me. I know it's always preffered to find things on one's own but I am really kind of worried about this one. I have a few questions and any help is appreciated. Just point me to the right thread and I'll be happy to read it myself. Just need a little direction is all.
First question is the most important... I think my gun is hurting itself. I have a few images attatched that show damage that was NOT there when I bought it. This happened after only 42 rounds! I know that the gun is super dirty but it hasn't been cleaned since it was shot... it was however cleaned BEFORE it was shot.
Can anybody tell me what's going on here and does this make the gun defective? I am really worried about this one and am considering trying to return the gun or some such. Since the damage is on the frame I'm not sure anything could be done but to replace the gun.
Pic 1 - there is a nick in the frame.... only 40 rounds and the metal is definitely chipped.
Pic 2 - I can't really recall if this is how this portion of the gun looked when I bought it. Is this normal or is the plastic being carved away as well?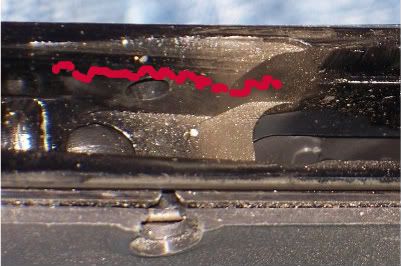 Next question is a classic I'm sure. As soon as I bought my KT I took it home, stripped all the packing grease off and oiled the bad boy down. I took it out shooting with some cheap target rounds... sorry don't have the box anymore, but it's all they had... the last box!
First 3 mags worked flawlessly. Next 3 however had constant FTE/FTF where the next round would smash into the back of the spent casing. Drop the mag, pull old round out... etc. But it happened at least 5 times in those last few mags... that bothers me! If someone could point me to what I'm sure are numerous threads about this issue I'll check them out. I'm pretty sure I wasn't limp wristing as I am NOT new to shooting but with a new gun I guess anything is possible.
Lastly I would like to ask that anyone who has the time list some of the better mods or parts that can be switched out on this gun. I'd like to take this gun to the max... though my cheif concern is reliability, function, and carry. I'm pretty familiar with the usual stuff like metal mag catch, laser, mag extension, etc. But what else is out there? Are there any other companies besides kel tec that offer custom parts or services? Any help is appreciated.
Again... glad to be here and thank you to anyone that can help this newbie out.