Discussion Starter
·
#1
·
I got up this morning , fairly early ,seen sumpin movin on a far hillside, so I grabbed the Marlin 783 ,22 mag, ( keep it sitting by the door ) with a Simmons 3x12x44 44 Mag scope, figgered it was that elusive ground hog ,(been trying to get for a few years ) scoped it, at 8X, yep it was him,
Grabbed the range finder ( yeah , the one I had lost), yep 144 yrds. Hmmmmm, I just zeroed this scope for 100 yrds earlier this week, previously was set for 50 yards, go figger.
Sneaked out my back door, eased around side of house , being very stealthy , trees between he and me, (they can see you blink an eye at 100 yards), leaned against the side of house, to steady up, (yall know what I mean),
Cranked the scope to X12, clear as a bell, put the crosshair on its left ear, held over about an inch.
One shot one kill, dropped in its tracks, never moved or tried to run, 144 yards, CCI 40 grn HP, 22 magnum..... FINALLY
:yahoo:
It started raining before I could get back in the house.
Them whistle pigs have caused extensive damage to my barn and driveway, digging tunnels,
That one wont.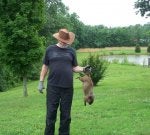 Jim